Building credit can seem like a daunting task not worth taking on, but it's not as difficult as you'd think. Plenty of credit cards are designed for people without credit. Here are the best credit cards for building credit
When you're trying to build your credit history, you can find yourself stuck in a paradox. You can't build your credit until you're given a loan, but no one wants to give you a loan without a credit history.
As a result, some give up in frustration and resign themselves to "having no credit." But there are ways to build credit from scratch, otherwise no one could have done it.
There are credit cards that are designed for people with limited or no credit history. These cards may not offer you incredible rewards, or super-low interest rates, but you can get approved for these cards easily in order to build your credit.
Secured cards
One way to build credit is with a secured credit card, which is available to people with no credit history. Secured cards are similar to other credit cards, but you must pay a refundable security deposit before your account can be opened. Also, the credit line you receive will be equal to the amount of your deposit.
After your account is opened, you'll receive a statement each month and you must make monthly payments. Your security deposit will only be used if you're in default. You'll also have to pay interest charges if you decide to carry a balance.
Within a year, most secured card users who have made all of their payments on-time payments are able to switch to an unsecured card and have their security deposit refunded. Here are two of the best secured cards:
Discover it® Secured
The Discover it® Secured offers most applicants with no credit or bad credit the chance to build credit if they pay at least a $200 security deposit. But once opened, it has all of the other features and benefits of the Discover it® Cash Back.
For example, it has no annual fee, no foreign transaction fee, and no penalty interest rate. Discover will also waive your first late payment charge automatically, and it offers 100 percent US based customer service.
You'll even earn two percent cash back rewards at restaurants and gas stations on up to $1,000 in combined purchases each quarter, and one percent cash back on all other purchases.
Learn more about the Discover it® Secured and how to apply
Capital One® Secured Mastercard®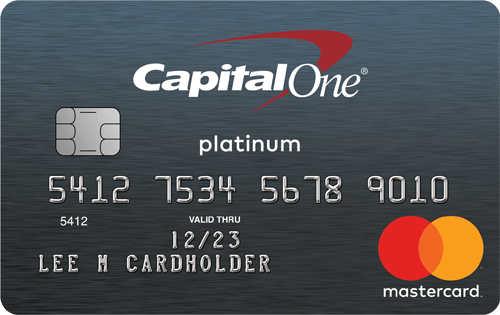 In A Nutshell
Owning a secured credit card can be a necessary step in bring your credit profile out of the gutter and the Capital One® Secured Mastercard® is one of the strongest secured credit cards on the market today. It's rare to find one that doesn't charge an annual fee and Capital One will automatically review your credit limit in as little as six months.
Read review
Credit score requirements:
Credit Score requirements are based on Money Under 30's own research of approval rates; meeting the minimum score will give you the best chance to be approved for the credit card of your choice. If you don't know your credit score, use our free credit score estimator tool to get a better idea of which cards you'll qualify for.
What we like:
Start off with an initial credit line of $200 w/ a minimum deposit of $49, $99 or $200

Be automatically considered for a higher credit line in as little as 6 months with no additional deposit needed

No annual fee and no foreign transaction fees
By submitting a refundable deposit of $49, $99, or $200, you can open an account with an initial credit line of up to $200.
Furthermore, you can receive access to a higher credit line with no additional deposit after making your first six monthly payments on-time. Benefits include extended warranty coverage, auto rental insurance, and a price protection policy. There's no annual fee for this card, and no foreign transaction fees.
Learn more about the Capital One® Secured Mastercard® and how to apply
Store charge cards
Another way to build credit from scratch is to use a store charge card.
These are credit cards that are only valid for use for purchases from a single store. So while they are not part of a payment network like Visa or Mastercard, these accounts will still appear on your credit report to help you build a credit history. Here are three of the best store charge cards:
Target RedCard
Target.com.
Other benefits include free shipping on most items at Target.com (a minimum purchase may be required), and an additional 30 days to for returns. There's no annual fee for this card.
Amazon Prime store card
The giant online retailer offers this store card to subscribers to its Prime service. It offers five percent back (as a statement credit) on all of your Amazon.com purchases.
It also features a variety of special financing options on purchases of $149 or more. There's no annual fee for this card.
Lowe's Advantage Card
This app德扑圈官方网址home improvement store also offers a store credit card that gives you five percent off of all purchases, or special financing options. There's no annual fee for this card, and you can even make your payments in the store.
Here are some more store cards to consider.
Self (Alternative to Credit Cards)
Secured cards and store credit cards are effective ways to build credit but they have two significant pitfalls.
They're expensive. If you carry a balance month to month, you're losing money with moderate to high interest rates.
They're dangerous. Store credit cards specifically, sometimes the temptation to buy more than you can afford will get you into much more trouble than you've bargained for.
Self is a different way to improve your credit score. They offer four different loans with one or two year repayment plans that allow you to simply pay yourself, all for a small fee. The idea behind Self is that instead of risking more credit and falling deeper into debt (or hurting your credit score), you can take a loan out with no chance of amassing debt and increase your credit score in the process.
Every month you make a payment on-time, Self will report it to the three major credit bureaus. After you've made your last payment, Self will send you a check for the sum of all payments made, minus interest and a one time $9 or $15 application fee. Payment terms are 12 or 24 months and loan amounts are either $525, $545, $1,000 or $1,700.
Summary
Building credit may seem possible, but there are plenty of credit cards that can help (if used responsibly). Any of these cards will help you start slowly building your credit.
Read more
About the
Jason Steele
Jason Steele has been writing about credit cards, travel and personal finance since 2008, and is passionate about using his cards to travel for free. Jason contributes to many of the top personal finance and travel sites and has been widely quoted in mainstream media as a credit card expert. Jason lives in Denver Colorado where he enjoys bicycling, snowboarding and flying. You can follow Jason on Twitter, Facebook or on his website.
Read more from this